The ABR Lads Club celebrated a first up success with The Kapiti Express at Globe Derby Park on
Saturday night.
More than 100 Lads Club members, their family and friends were on course to cheer home the
Aaron Bain-trained pacer.
The cheers as The Kapiti Express powered up the home straight to victory were the loudest heard at
Globe Derby Park for quite some time.
Backed from as much as $2.10 to run a $1.20 favourite, The Kapiti Express, driven confidently by
Wayne Hill, turned in a strong performance to win the Stewart Dyson Pace (2230m).
Forced to sit parked outside the leader in the early stages, the five-year-old took over midway down
the back straight and ran strongly to the line to win by four metres from Damysus ($17) with Aces
Daughter ($8.50), 2-1/2 metres away third.
He rated an impressive 1:58.2 for the journey after working hard in the run.
The 250=member ABR Lads Club was formed after the success of the ABR Ladies Club promoted by
Aaron Bain Racing.
The Ladies Club pacer Arco won her first three starts for the group, now The Kapiti Express will
attempt a similar feat.
Trainer Aaron Bain was delighted with the support of club members.
"It was great to have a bit of atmosphere in the stalls area where we were preparing him to race,"
Bain said.
"Then when the crowd started cheering turning for home and all the way up the home straight was
something special.
"I'm just so glad The Kapiti Express was able to win for everyone.
"His trials had been excellent but it was fantastic to see him do it in a race."
Driver Wayne Hill said he felt the horse was never going to be beaten.
"Despite covering ground, when I asked him to sprint, he answered the challenge.
"I was able to ease him up over the final 50 metres and he won well."
Bain said The Kapiti Express would be given a few days to recover from the run before being
prepared for his next start, most likely on Saturday, October 2 at Globe Derby Park.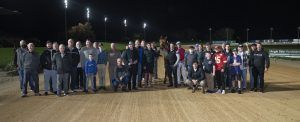 Photo: Walter Bulyga, Arclight Photography